October 17th, 2014
Many of us know that it's not easy to find square frames (unless you order them from FAA, of course). Also it's not easy, if possible at all, to find a square portfolio binder for prints. In order to solve this problem and to be able to show people my most beautiful square photos I created a book called "Square beauty". Translation to Lithuanian is "Grozis kvadrate".

My idea behind the title was to have a dual meaning- an image in the square frame and a meaning based on a mathematical function of a "square". Just like there is "a square meter", "a square mile", so is my "square beauty".
. The front cover of the book features the king of the beauty in my eyes- my beloved deceased cat Runciukas. He was my closest friend and a family member for more than 18 years. So I thought it was just natural to showcase his portrait on the cover of my first book as a tribute to his unconditional love to me.

The book has one more cat photo in it but other than that- it's not about cats. What is in the book? You can find it out for yourselves. The preview is enabled:


Hope you like it and maybe consider to purchase it (different binding options available). Any profit received from my photography products in any of my online stores generates a 5% donation to Pandas International.
May 12th, 2014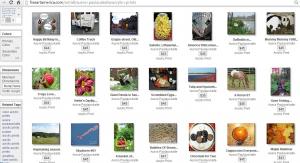 May is a month oof my birth. As a proud sponsor of Pandas Internationals and a big lover of pandas I created a 20% off sale for those who would love to support my efforts to help giant pandas by giving a gift to me and pandas in for of any purchase from my FAA galleries. All types of prints and greeting cards will get a 20% discount from my mark up (it doesn't affect FAA base prices) if you use a code: RFURGC. Valid through May 31.
April 12th, 2014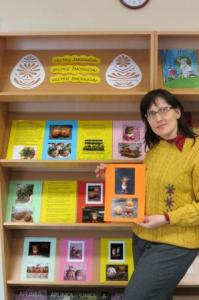 As the most beautiful spring holiday- Easter approaches I created a series of funny photos with little eggmen wearing green hair growing on their heads. After having fun creating my merry Easter people (I draw their faces and greew garden crest for their hair myself), I decided to create a series of real Easter postcards. After the art show they can be sold or sent to people.

The art show of original Easter postcards is displayed in the library of Silute M. Jankus basic school, Silute, Lithuania and is open for visitors at the usual work hours through the rest of April. Closed on weekends and holidays.

The photo attached to this blog shows me at the display of my postcards. For all beautiful decorations around my photos I am grateful to our librarians who did all the decorating job for me.

By the way, the new generation of little egg people is coming up as Easter weekend aproaches ....

If you'd feel like purchasing any of these postcards or even large size high quality photo prints, visit one of my online shops. By purchasing from either FAA or Zazzle store of Pandute DigitalArt & More/ Ausra P Fotografija you are helping to protect giant pandas, because 5% from the artist's profit are donated to Pandas International. And even if you do not buy anything visits, comments and shares are greatly appreciated.
March 27th, 2013
A crazy week here: attending seminars at work, submitting photos for the local contest "Different Silute" (my hometown), writing introduction article and short descriptions for photos for my personal show (have to deliver everything to the library tomorrow), also got to send descriptions of the couple items I donated to Pandas International. They'll have an auction on April 5-14 and asked me to write descriptions myself. Sure, as for everyone else there are household errands and monthly bills waiting for their turn too...

I hope fellow artists will forgive my absence and inactivity in groups.
March 8th, 2013
Prices just melted for Most of Easter, chocolate, and floral greeting cards. A single greeting card will cost only $4.70, a pack of 10- only $25.00, and a pack of 25- only $45.00!
For limited time (spring) only!
August 9th, 2012
It's an off topic announcement considering the theme of this group but I can't help sharing the joy of this morning. FAA met me with an announcement about the sale of one of my recent photos as a canvas print:

http://fineartamerica.com/saleannouncement.html?id=5dd505907d3b14c5315479fca74926e2




I had sold a couple greeting cards before but this is the first print, so it sure makes my heart beat faster.

Thanks to a buyer from Fremont, CA - United States. Hope the picture brings you same joy I had taking this series of photos.
June 10th, 2012
Still in search, thoughts and doubts about purchasing a new smart camera....
I'm not a serious shutter bug yet, although a very passionate hobbyist (don't know if that's the correct word to use). I've been using Canon Powershot A650 IS for almost 4 years now. It's been my first digital camera after using film for many years before, and of course I was delighted by so many things it provided, including (but not limited to) ease of use, 6 zoom, macro, all different shooting modes, video and fancy flip (rotate 360) LCD screen.

Now I'd like to get something w/ bigger zoom. 6x is not quite enough for wildlife and airshow photography I intend to do this summer. I've been looking at a few cameras with 20x and 30 (35)x Not sure I need too big telephoto... I'm leaning to 20 more than 32 ...
I'd like a new camera to be relatively small and light so I could carry it w/ me during all my travels without it becoming an extra item on the airplane baggage list.
It should have same if not more different shooting modes available, video option, and of course make great photos and videos.
And last but no way least- I want to have a LCD that can be swiveled, twisted and tilted at various angles.
I'm not ready for DSLR yet ... They are too expensive and I don't like that you can have either widescreen or telephoto at one time. Not to mention they are heavy and big...
o I want too much?

I'd appreciate any suggestions and real life /experienced based reviews on cameras that would fit my criteria.
March 26th, 2012
I started my Fan page on Facebook today. Everyone interested feel free to visit:
http://www.facebook.com/PanduteDigitalArtAndMore
December 12th, 2011
NATIONAL DISHES IN PHOTOS

I created this new contest yesterday and put it into the Featured Contest pool hoping to get enough FAA members' votes to make it happen.

This is a special type of contest. As an administrator I have chosen to award FAA gift certificates as the prizes!

This contest will be awarding the following prizes:

1st Place:

$25 FAA Gift Certificate

2nd Place:

$15 FAA Gift Certificate

3rd Place:

$10 FAA Gift Certificate

In order for this contest to become active, you must vote for it below.

Every five days FAA system tallies the votes for all of the inactive contests that are hoping to award gift certificates. The contest with the most votes wins... and then immediately begins!


If you like the theme visit this page and vote for the contest please :

http://fineartamerica.com/contests/national-dishes-in-photos.html?tab=overview


Being a new creation this contest is almost at the very bottom of the pool yet, it needs an initial boost to climb up and become visible when people open All Contests page.

Thank you for your vote.
November 23rd, 2011
Dear pet , pet photography, lovers,

Two of my photos featuring my dogs Meskis and Lola are submitted to FAA contest "Dogs" right now. You may see them and vote for them by visiting these 2 links:

http://fineartamerica.com/contests/2-dogs.html?tab=vote&artworkid=2672704

http://fineartamerica.com/contests/2-dogs.html?tab=vote&artworkid=2672680

It would be great to win one of top 3 places.... Thus your votes are very appreciated. Thank you.
August 25th, 2011
A slideshow makes it easier to fast preview photos from different galleries. Hope you'll enjoy it.





If you like what you see here, go to my artwork/galleries for the particular image you liked and see the details regarding purchase.
Feel free to e-mail me with any questions. Prices are set as default but we can always discuss them before you buy. I can offer a discount if you purchase more than 1 of my works.

And even if you don't want to buy anything, please visit my galleries and individual artworks to leave your comments. It's always good to get feedback from visitors. Thank you.